14 August, 2006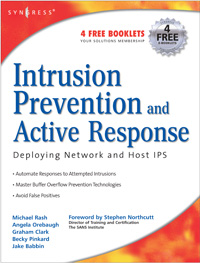 Syngress Publishing
has allowed me to post one of the chapters I wrote for the book
"Intrusion Prevention and Active Response: Deploying Network and Host IPS"
. This chapter is entitled "
Network Inline Data Modification
" and explores the concept and implications of configuring an Intrusion Prevention System (IPS) to dynamically rewrite application layer data en route over a network. A PDF version of this chapter can be downloaded
here
. The book has received positive reviews (including one by Richard Bejtlich of
taosecurity.com
) on
amazon.com
. The actual data replacement is accomplished with Snort_inline or with a
patch
I wrote for the Netfilter string match extension and bundled with
fwsnort
.